Welcome to our November newsletter.  
Your monthly peek behind the scenes at ACLX with exclusive offers, news and events.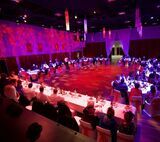 End of year events
The final months of the year always keep us busy - dance school concerts, corporate functions, school balls and Leavers' Dinners, and weddings.    Have a look at other frequently hired wedding/party stock on our website.  We can even create a custom-made chandelier like the one below for your special event.
OUR RECENT EVENTS
Lion King Jr by St Peters School Cambridge, All Shook Up by Berkley Normal Middle School, Shrek Jr at Morrinsville Theatre, Impact by Waikato Dance Performance Trust (photo above) and Hamilton Civic Choir's Faure Requiem concert. Aaron was away working at the Tauranga Arts Festival from 19-29 October.
Low Lying Water-Fog machine

This machine creates a low-lying fog that hugs the floor and dissipates without rising. Enhanced duct material, making the product lightweight, portable and durable.  Uses fog fluid and water.

 
---
 

 LED Fresnel RGBAL DMX Zoom

The LED Fresnel RGBAL is innovative 5 colours fresnel with 16 professional colours already programmed.  An ideal fixture for theatres, TV studios, exhibitions and conference halls.
with a touch of ACLX
 

Hamilton Operatic Society

25 Nov - 9 Dec 

Claudelands Arena Hamilton

 

Cirleque

9 Dec 2017

Hamilton Gardens Pavilion

 

 

 

Fundraising concert Ruby Lyon

17 Dec 2017 

Clarence  Street Theatre
 

FREE Safety and Usability Assessment

This month we are offering a free half hour Safety and Usability Assessment for your venue/school hall. 

Email us now to book your free assessment. Book by 30 November 2017.